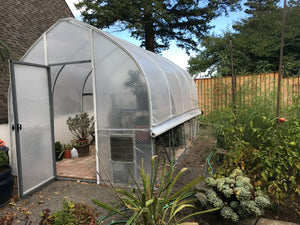 10' SOVEREIGNTY MODEL
These Solawrap Greenhouses are the only greenhouse on the market that features Solawrap greenhouse covering available. This covering provides the optimum insulated value for the cost and provides a 10 year warranty on the film against UV degradation.
These urban farm greenhouses features:
1 3/8" galvanized steel frame
Heavy Gauge Locking steel door
Solawrap Greenhouse covering & Extrusions
Easy to construct with clear and concise instructions
There are dozens of greenhouse kits on the market but many require special skills to build, are made with weak aluminum or plastic frames, are difficult construct, have poor directions and support and do not hold up to adverse weather conditions.
Helios greenhouses prides itself on providing the most reliable and high performing greenhouse on the market without breaking the bank and expects that you will enjoy it with many, many years to come.
10' x 12' Call for pricing
10' x 16' Call for pricing
10' x 18' Call for pricing
10' x 20' Call for pricing