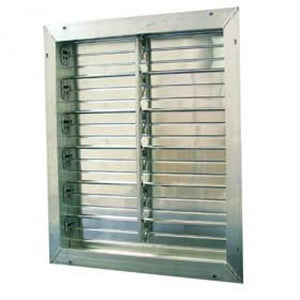 16" ALUMINUM INTAKE SHUTTER ONLY
Regular price $85.00 Sale
These Aluminum Intake Shutters are designed for use as an inlet to bring fresh air into your building and may also be used for free-air exhaust.
Features/Advantages:
High efficiency shutter with tie bar to eliminate shutter flapping
Nylon bearings and solid shafts for smooth performance
Heavy-duty aluminum extrusion frame
Corners are precision milled and welded for durability
Interlocking louvers for maximum weather seal
Double panel models include additional center bar for extra strength
Optional 115/230V Motorized Kits Include:
Motor
Lever Arm
Chain
S-Hooks
Tension Springs
Mounting Bracket
Hardware
Optional Motorized Kit with 9' Cord: Choose this option for "no electrician required" operation. These shutters are pre-wired for 115 volts.
Some assembly is required.