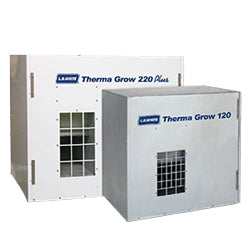 L.B. WHITE THERMA GROW 220K HEATER LP OR NG
 CALL FOR PRICING
20% Better Fuel Efficiency Than Traditional Greenhouse Heaters!
Therma GrowTM heaters are advanced, clean-burning, direct fired models that offer 20% better fuel efficiency than traditional heaters. So when comparing thermal conversion or seasonal (year-round) efficiency, the Therma GrowTM outperforms even the most advanced competitive products and does so for less money.
Therma Grow™ heaters utilize exclusive, L.B. White Plant-Safe Technology™,  the only green house heater certified to the stringent greenhouse emissions standards.
Therma Grow™ heaters carry an unheard of 10 year manufacturer's warranty on the heat chamber and case, and have completely enclosed and protected components, making for years of trouble-free heating. The design combines efficiency, advanced performance, and long component life to reduce energy and maintenance costs, and help grow profits. These units can be mounted either inside or outside; giving growers flexibility and the ability to free up grow space. 
L.B. White is the pioneer in direct fired heaters and with 50 years of perfecting every aspect of our design which has led to our reputation for reliability, durability and serviceability.
Key Features:
Galvanized

10 YEAR MANUFACTURER'S WARRANTY against heat chamber and case corrosion

Output size: 120,000 Btu/h

Meet all OSHA emissions requirements for greenhouses.

Plus models provide even greater heat management features including 2-stage temperature control and heating and air circulation modes.

Dependable, fuel efficient hot surface ignition

Quick response, on-demand heat using Hot Surface Ignition

Easy integration with building controls

Only CSA approved certified greenhouse heater

100% test fired at our plant

​

​Specify Volt 115 230

Specify LP or NG