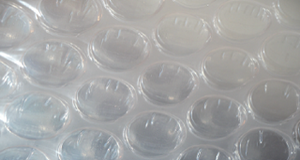 SolaWrap Greenhouse Covering - bulk roll - 4' wide x 328' long roll
Regular price $2,095.00 Sale
**CALL FOR SHIPPING RATES**
Apply SolaWrap for insulation on par with triple wall polycarbonate (which cannot be applied to hoop houses due to it's rigid nature), as well as 83% light transmission and 83% light diffusion.  This amount of light will allow your plants to grow at a faster rate.  Clients using this product in the Mediterranean have reported a 3 week advancement of tomato crops in structures covered with SolaWrap when compared to structures covered in other forms of polyethylene.  Plants flourish under diffused light.  Only SolaWrap provides high light transmission, high light diffusion, and high insulation.
With over 30 years of design expertise and scientific testing hailstones,snowstorms, hurricane winds, and severe hot and cold weather are not match for this greenhouse film. SolaWrap maintains the highest of global manufacturing standards!
10 Year Warranty Against UV Degradation
R-Value: 1.72
Snow Load Capacity: 120 lb/sq ft
Wind Load Capacity: 100 mph winds
Transparency: 83%
Diffusion: Up to 83%
Best Roll Up Curtain Solution 
Expected Lifespan: 15-25+ years
Polydress® SolaWrap is a flexible material that can easily be cut with a knife or scissors.  Whether replacing your existing roofing material or building a new structure, the film's light weight allows for quick and easy installation.  SolaWrap is utilized in conjunction with the unique profile locking system allowing for new sections to be exchanged with older sections with ease. You can increase the size of your greenhouse by adding sections to the hoop structure. The size of your greenhouse can grow with your business demands.
SolaWrap offers the easiest installation of any greenhouse plastic. Our patent pending slide and lock technology is easy and safe to use. Simple slide the bubble wrap plastic sheeting piece into the connecting stations and that's it.  You can have confidence this extrusion will hold.  Here is an image of the extrusion being hit with a 240 pound dart test! No Problem!